Israeli Defense Minister Avigdor Liberman said on Monday that Israel "will handle any Iranian threat" seemingly in response to a Reuters report published last week, that claimed Tehran was transferring ballistic missiles to its Iraqi proxies with the capability of reaching Israel.
"As for the threat from Iran, we are not limiting ourselves to Syria. That should be clear," Liberman told a conference organized by Hadashot TV news.
When asked specifically if this included Iraq, the defense minister responded: "I'm saying we will handle any Iranian threat, no matter where it comes from. We are maintaining the right to act… and any threat or anything else that comes up is dealt with."
Reuters news agency — citing several Iranian, Western and Iraqi sources — reported on Friday that Tehran has dispatched the missiles to its allies as a "back-up plan" in case Iran were attacked by the United States or Israel.
The missiles were said to be in the 10's and the transfers were intended to send a warning to the US and Israel, especially following a number airstrikes on Iranian troops in Syria that analysts have attributed to the Jewish state.
Deemed to have ranges between 200 to 700 kilometers, the report claimed that Israel's densely populated city of Tel Aviv and Saudi Arabia's capital Riyadh would be within striking distance, if launched from southern or western Iraq.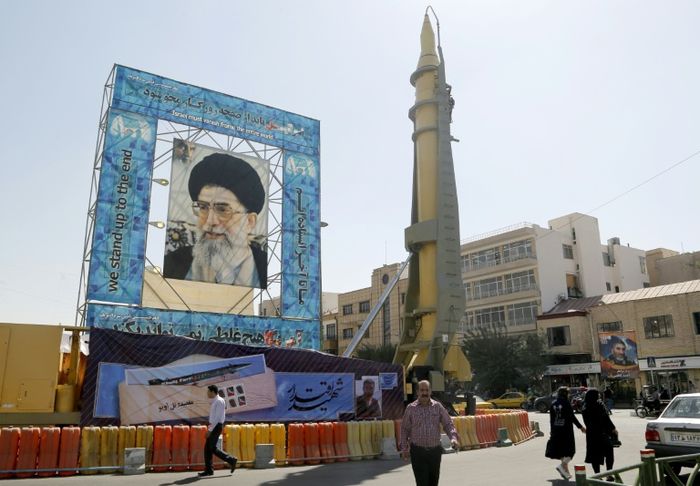 A Ghadr-F missile is displayed next to a portrait of Iran's Supreme Leader Ayatollah Ali Khamenei at a war exhibition at Baharestan square in Tehran in 2016. 
ATTA KENARE (AFP/File)
It added that transfers were being made with an eye to enable its Shiite proxies in Iraq with the ability to produce their own missiles.
Iran's foreign ministry spokesman, Bahram Ghasemi on Saturday dismissed the report as well as "rumors" about the shipments as "fabricated nonsense," the IRNA news agency said.
"Such news merely is to cause panic among countries in the region and are in line with their policy to spread Iranophobia," the outlet's English-language website quoted Ghasemi as saying.
The Western source cited by Reuters said: "It seems Iran has been turning Iraq into its forward missile base."
A host of western countries, alongside Israel, have repeatedly accused Iran of ferrying missiles to its proxies: Hezbollah in Syria and Houthi rebels in Yemen.
The report came amid ongoing escalating rhetoric between arch-foes Iran and Israel. On Wednesday, Israel reiterated its readiness to attack Iranian military targets in Syria, after Tehran and Damascus signed a deal on continued military cooperation in the war-torn country.
Israeli Prime Minister Benjamin Netanyahu has delivered recurrent warnings to Iran regarding threats to wipe out the Jewish state, and also on Wednesday reiterated that anyone issuing such threats "would put themselves in a similar danger."
Originally posted on i24News.